You're viewing an email archive of The L.A.U.N.C.H. newsletter.
Join free to receive the weekly newsletter keeping course creators and membership site owners in the know-how.
L – Latest News
Instagram Threads hits 100 million users, leaving ChatGPT in the dust
If you want to witness the wild ride of an app taking over the world faster than a speeding bullet, buckle up and read this blog post!
Twitter traffic is tanking like a deflated balloon
If you want to witness the epic battle between two tech giants, complete with lawyer letters and social media insults, this blog post is your front-row ticket to the drama!
From AI-generated quizzes to personalized recommendations, YouTube are shaking things up
So, get ready to dive into the world of YouTube experiments and be the first to know what's hot and happening on the platform.
ChatGPT Prompt of the Week
Code interpreter is now live for all ChatGPT Plus users.
To activate it go to Profile > Settings > Beta Features > Code interpreter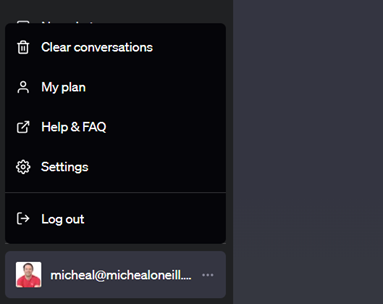 Some people call this a sneak peek at ChatGPT 5 because it is so powerful.
However, that is just a rumor without any basis.
The cool thing about Code Interpreter is you can upload files and data and ask ChatGPT questions about it.
This is massively powerful for Facebook ad analysis.
There are lots of applications, but let's start with a simple one.
Go to your Meta Ad Account. Select a campaign.
Go to the Ads Tab.
Select and save all relevant reporting columns.
Click Reports > Export Table Data > Export to xls
Prompt Objective: 
Use ChatGPT Code Interpreter to analyze your campaign results – Step 7
Prompt Outline:
Part 1
I want you to act as an expert Facebook Data analyst.
Please review the uploaded campaign report from my Facebook Ad Account.
In a minute, I will ask you to:
Tell me what is working and what is not.
Suggest how I can optimize the campaign to reduce my costs and increase my profits.
Before I do, please tell me what additional information you need to make your recommendations.
Part 2
Answer questions asked by ChatGPT
Part 3
Based on the data provided, please:
Tell me what is working and what is not working.
Suggest how I can optimize the campaign to reduce my costs and increase my profits.
Latest A.I. Tools
Don't waste time, automate!
Say goodbye to mind-numbing tasks and hello to efficiency. Connect to over 5,000 apps, integrate with Zapier or API, and watch your workflows become as smooth as butter.
Take your content global and unlock new revenue possibilities
Seamlessly translate your podcasts, videos, and articles into over 60 languages.Clone your voice or choose from a diverse library of voices.
The lead generation tool that's like having a team of sneaky phantoms do your dirty work.
They'll crawl the web, scrape data, and gather your ideal targets 24/7, all while you relax on a beach sipping margaritas.
U – Uplevel Ads
Buying high-quality traffic is not the challenge.
The challenge is crafting an offer that converts at a profit.
This week we are looking at a campaign from Susie Moore.
Susie is currently in the middle of a webinar launch.
When I went looking for her ads, I got a surprise.
Susie's entire ad library focused on her evergreen launch.
Most ads have been live since Nov 2022. (AKA these ads are killing it!)
But that wasn't the surprise. Check out the Now Launching section for the surprise.
So enough chit-chat. Let's get down to the ad copy.
I had to pick this ad as it features my good friend Andrew Woodward. What up Woody!
Social proof is one of the strongest psychological conversion tools we can use. 
Social proof takes many forms.
In this ad (as in 90% of her other ads) Susie uses the before and after frame.
It provides social proof that Susie's methods work. 
And more importantly, paints a picture of what someone's life looks like after her program.
First the ad connects with the frustration and the pain.
"Andrew was about to give up on his financial coaching business" 
(never let the truth get in the way of good ad copy!)
Then he took my program, and now this is how his life has changed.
The real trick with transformation is to make it as specific as possible.
Susie does a great job of connecting media exposure to the ultimate goal….
…increased conversion rates and sales….
Swipe Files:
N – Now Launching
Let's leave the "Live Launch" to one side for a moment.
The first thing I noticed about the ads was how long most of them had been running for.
A couple were published in July 2023 but the majority of ads had been running since Nov 2022.
This is a sign that the ads are killing it.
But my surprise came when I clicked the link in the ad to access the webinar replay.
I was expecting to land on an opt-in or webinar registration page.
But I landed on a sales page with the webinar replay video at the top.
This is a 1h 33m webinar.
Susie has her ads split into top-of-funnel and bottom-of-funnel.
The top-of-funnel ads drive people to the sales page. 
The ads running from November 22 retarget people who have visited the sales page.
This isn't for the faint hearted.
Driving cold traffic from Facebook to a $497 offer is HARD.
Don't even attempt this if the conversion rate for your offer isn't off the charts.
My guess is the webinar completion rate is low. It's just the lure people to the page.
You need to have a knock-out offer and killer copy to pull this off.
Swipe Files:
C – Conversion
Fed up with Facebook Ads? 
Is your ad account causing massive headaches? 
Here are 3 simple steps to flip frustration to elation and start getting the results you need from your Facebook ads. 
Navigating Facebook Ads can feel like a maze. Let's face it the ad account interface sucks and there is so much conflicting information it's hard to know where to start. Implement these 3 steps to start getting the result you want, even if you're a newbie! 
1 – Know your audience! 
Dive deep into demographics, interests, and behaviors. Talk to your clients and prospects, and use ChatGPT as a market research tool. The more you know about your audience, the better your ads will perform! 
2 – Ad creatives matter! 
Combine eye-catching visuals with persuasive copy to captivate your target audience. Highlight your audience's key pain points, dreams, and ambitions. Test different formats (image, video, carousel), and remember – relevance is key! 
3 – Track and analyze! 
Set up conversion tracking to measure your ads' performance. Use Facebook Ads Manager to monitor results and optimize your campaigns. Learn from data, make adjustments, and watch your ROAS soar!
Ready to conquer Facebook Ads?  Remember:
Know your audience 
Create captivating ads 
Track, analyze, optimize
Take the first step – pick up the phone and talk to a client TODAY! You got this
H – Hot Take